Beginnings — A Garage Band and Basement Workshop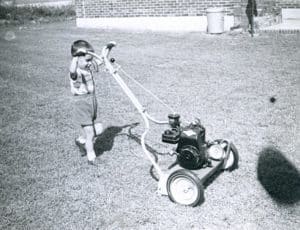 Coming of age in Buffalo, New York in the 1960s, Ted Megas was engrossed in the guitar as a 13-year-old. He played guitar in a band with his high school buddies — playing Beatles, Chuck Berry and pop music. A common experience for young men of his generation.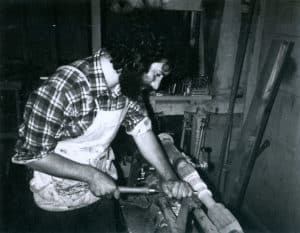 "My dad was a metallurgical engineer, and he also knew woodworking. He had a good selection of tools, and gave me free rein. I experimented, teaching myself. I started off building things I wanted but couldn't afford otherwise – such as speaker cabinets. I discovered a talent for making anything I wanted, out of wood, metal."
Ted became interested in blues and jazz, in the archtop guitars of blues and jazz, and, eventually, in taking the guitar-making craft to new levels of refinement and beauty.
"In high school, I got interested in the Yardbirds, more guitar-oriented music," he says. "Hendrix was a revelation. Then John McLaughlin and Wes Montgomery. After a stint as an engineering student at college, I started a jazz-rock fusion band. We were fairly accomplished musicians, but we couldn't make a living in Buffalo. To make a go of it with jazz, we needed to live where jazz thrived, and play New York City, for example. But we were more interested in exploring the California dream."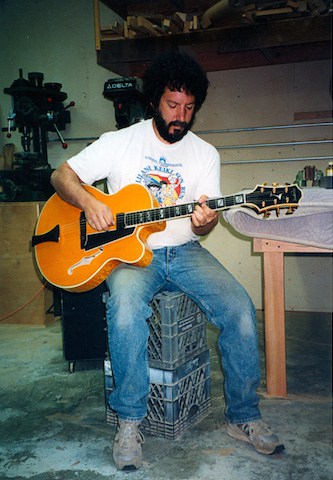 The Day Job
By the early 1970s, a recession had stifled the country. New York City, with its jazz clubs, was about to go bankrupt; crime and grime filled the streets. Megas took the other fork in the road. He joined the Woodstock-generation exodus from the East to the West Coast. Since the 1960s, California had become a magnet for counter-culture youth looking for a different way of life. Musicians and artists embraced the fresher spirit and optimism of the West, centered in San Francisco, home to Haight-Ashbury.
At first, Megas remained focused on playing jazz fusion in San Francisco, though he needed other work to support himself. He applied his woodworking skills and talent to building custom furniture and cabinets to create a steady living, though his "heart wasn't in it." Then Megas stumbled upon an inspiration.
From Day Job to Life's Work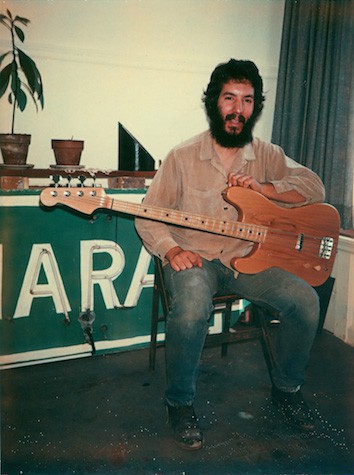 Around the corner from Megas's home in San Francisco was Panjandrum Press. "They had a book on display," remembers Megas. "The Electric Guitar – Its History and Construction, by Donald Brosnac. The guitar pictured was not spectacular, but the book did explain the process. I thought, if he could do it, I can do it. My first effort, a left-handed Fender-style bass for a friend, got impressive reviews. The light went on in my head. I knew where I could find my passion.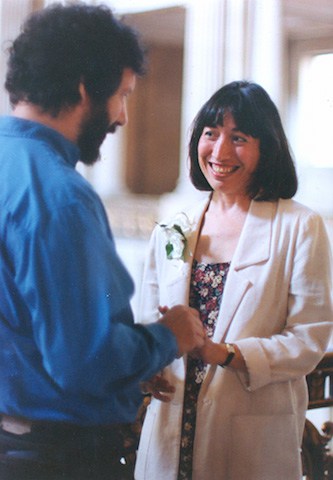 "My first guitar effort was an archtop, Les Paul style, solid body. Then I experimented with extremes – weird shapes, exotic woods, on-board electronics. It was an artistic pursuit; I wanted to make the nicest thing I could and I would try anything. I made a solid ebony flying V, with active tone controls on it; features that are common today, but confused people in the 1970s.
"You might call some of those early guitars commercial failures, but I learned something from whatever I did, and those principles still guide me in my work today. I started by making a dozen solidbody electrics, and they helped me to get better woodworking commissions. Designers would appreciate the workmanship in the instruments, and ask me to make custom conference tables, desks, and other furniture."
Professional Luthier
Two people gave him the impetus and support to develop his potential, focusing only on guitars.
First was his father.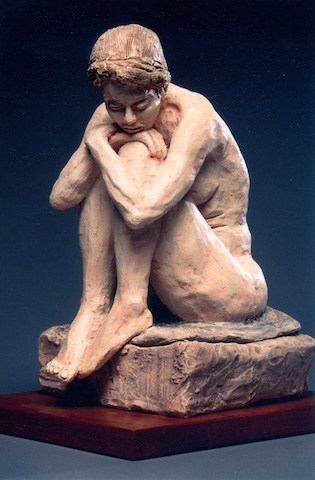 "When my father died, I became more aware of my own mortality. It might sound hokey, but it's true. I decided that if I were to make my own mark in life, I was going to make it happen now. I also decided to specialize in building archtops, because they were the guitars I had played and owned, and provided the most challenge.
"I was fussy and critical, my own toughest critic. I didn't want to show anything until I was proud of it. I experimented with a dozen instruments, taking them apart, modifying them, trying different approaches, until I was satisfied enough to offer them for sale. Yes, I'm a perfectionist."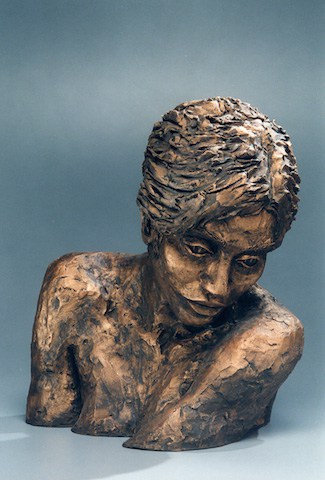 The second person was a muse who entered Megas' life. He credits Bonnie Rochelle Gallaty, a sculptor and graphic artist who became his wife, for inspiring him to guitar building as a life's work. "I didn't love making furniture; it wasn't my passion. Bonnie motivated me, supported my doing what I loved. The two of us became a team, and I went back to guitars with a new confidence. I give her the credit; without her I would not have made these guitars, not at this level.
"Bonnie was a talented artist, and also down-to-earth; organized. She knew how to get things done in a quiet, steady way. My life transformed. Partnering with Bonnie, I matured as a person and as a craftsman, an artist." By devoting himself to guitar building, Megas perfected his craft. He built about twelve guitars a year, personally selecting the woods, designing the instruments, constructing each detail – wood and metal — by hand, customizing guitars for his clients.
Megas guitars became known nationally and internationally for their quality; they became coveted by players and collectors. In June 1995, the world's leading guitar collector, the late Scott Chinery commissioned Megas and 21 other top luthiers to each build a blue archtop guitar. In 1996, the Smithsonian National Museum of American History exhibited the 22 blue guitars of the Chinery Collection, including the Megas masterpiece.
In an interview that appeared in the Fall 1996 Issue, No. 32, of Guitarmaker, Magazine of the Association of Stringed Instrument Artisans, Megas talked about the custom guitar he contributed to The Chinery Collection:
… I was asked by Michael Carey, curator of The Chinery Collection, to make a special "blue guitar" to be part of a collection showcasing the work of the world's foremost archtop makers… Their main concern was to match the color and shading of the blue Centura built by the late Jimmy D'Acquisto already in The Chinery Collection...
Jimmy was trying to expand the horizons of his archtops, both in look and sound, by doing with traditional adornments – mother of pearl, plastic bindings – things that were unfriendly to work and didn't contribute to the essence: the sound of the guitar.
By experimenting with f-hole shapes and size to open up the sound of the archtop, thereby incorporating some of the sound characteristics of the flat-top guitar, he wanted to create more of a universal guitar, accepted by flat-top players, too.
My own Apollo reflects many of these ideas, and for this blue guitar I chose to use some beautifully colored cocobolo that I had for the binding material, and then decided to substitute this wood for all the typically ebony parts, including the turning buttons and end pin. I loved the color contrast between the blue and the colobolo's multi-hued oranges.
Mature Luthier
Megas and Gallaty worked out of a San Francisco warehouse, their headquarters.
When they lost their lease in the late 1990s, they joined a steady migration of Californians heading north to Oregon, which Megas had regularly visited to handpick his woods from the musical instrument wood suppliers. Oregon attracted Californians because its cost of living was more affordable, property significantly less expensive, and its lifestyle organic and more easygoing, even in Oregon's largest cities.
In 2000, the team settled into a home in Portland near the Columbia River, one with enough land for a garden and a small vineyard, with a sprawling building on the property perfect for Megas's workshop. Gallaty could plant the garden she always wanted; they could buy rather than lease. Life would be more secure. It was ideal. They moved workshops and lives to Portland.
In 2002 tragedy struck. Gallaty died suddenly from a brain tumor. It took a long time for Megas to go through the grieving process, losing his life partner. Throughout the process, Megas kept working, as a professional would.
Today Megas continues to build the highest-level handcrafted guitars. Players and collectors continue to admire and covet the instruments; other builders consult with and learn from Megas. He exhibits his guitars at top shows nationally; presents at conferences, and appears on discussion panels with other top guitar makers. Top professional journals in his field – such as the American Lutherie, the Quarterly Journal of the Guild of American Luthiers, have published articles by and about Megas, as well as reprinted conference panel discussions with Megas.
In 2012, Megas's first black guitar -- a portrait guitar commissioned for collector Don Fisher's 18 year-old daughter Alexandria -- took its place alongside five other world-class custom instruments. A year later, Megas' "Imelda" became his most recent commissioned portrait guitar, a tribute to a dear friend.